EFFECTS OF DIFFERENT NITROGEN RATES ON THE YIELD AND QUALITY OF CELERY (Apium graveolens var. L. dulce) IN TURKEY
M Kadri BOZOKALFA1, Dursun EŞIYOK1, Bülent YAGMUR2, Atnan UGUR1

1Department of Horticulture, Faculty of Agriculture University of Ege 351000 Bornova/Izmir Turkey (contact e-mail: bozokalfa@ziraat.ege.edu.tr)
2Department of Soil Science, Faculty of Agriculture University of Ege 351000 Bornova/Izmir Turkey

Introduction

Turkey has a suitable ecological condition for vegetable production. According to the statistics Turkey's vegetable production is 22 357 612 ton. Celery is widely grown in Ege Region nearly 20 000 ton total productions. Mainly celeriac grown in Turkey. Celery has a small and rosette stem and nearly 60 cm plant height. Nonnecke (1989) petiole length changed fertilizer rate in soil, water and temperature. Yield of celery depend on leaf number and petiole length. These factor affect low and high weather temperature, very high and low temperatures inhibits leaf growth and reduces leaf quality Long day condition reduced leaf number and affect longer petiole length. Growing condition, mechanization, consumer preference affect on plant density. Plant density 30-75 cm between rows and 12-25 cm within rows were recommended (17). In another study 75-90 cm between row spacing to mechanical growing and 45-60 cm for manual production advised. Fresh market celery yield increased as within row spacing decreased from 81-61 cm. Primarily studies reported that fresh and processing celery yield increased as within row spacing decreased from 30.5 to 10 cm. At high plant densities, a reduction celery quality may occur, resulting in a reduced grade and price. High plant density, competition for light, moisture and nutrient may sufficiently restrict root and shoot growth resulting in smaller stalk or reduced quality. To produce fresh, firmness leaf and petiole recommended; deep, good drained, rich organic manure and pH 6.5-7.5 soil. In the celery cultivation 325 kg N/ha 140 kg/ha P2O5 and 120 kg/ha K2O use. Although to get 60-70 ton/ha celery yield 214 kg/ha N, 80 kg/ha P2O5 and 70 kg/ha K2O fertilizer use and to care degree of Mg, B, Ca. Determination harvest stage of celery mainly uses plant height, and vegetation period delaying the harvest increased the yield.

Material and methods

The experiments were conducted in the Experimental Fields of Faculty of Agriculture, Ege University in 2002. In the experiment Tall Utah Claret were used. The experimental design was randomly block using tree replication. The research was carried out 0-75-150-225-300 kg/ha (N) nitrogen fertilizer on yield, quality of celery. Celery seed were sown 20 July 2002 in wooden boxes. After the germination seedling transplanted into 45 ml volume and filled torf and perlite (1:1) mixtures in polystyrene multicell. The celery seedling transplanted into the soil. During the study cultural treatment were applied as to Vural et al (2000). In the experiment 150 kg P2O5 and K2O fertilizer were entirely incorporated to soil preplanting under disc-harrow. Soil samples were analyzed according to the international rules. Plant height, leaf number, plant height, petiole length, stalk diameter and dry weight were determined randomly chosen plants in every plot. The data were evaluated using TARIST Statistical Package Program.

Table 1. Some physical and chemical properties of the experimental soil.


| | | | | | | | | |
| --- | --- | --- | --- | --- | --- | --- | --- | --- |
| Sand % | Silt % | Clay % | Texture | pH | Soluble salt % | Org mat. % | CaCo3 | Total N |
| 60.92 | 5.72 | 33.36 | SCL | 7.34 | 0.059 | 2.06 | 3.60 | 0.100 |
| P mg kg-! | K mg kg-! | Ca mg kg-! | Mg mg kg-! | Na mg kg-! | Fe mg kg-! | Cu mg kg-! | Zn mg kg-! | Mn mg kg-! |
| 3.2 | 400 | 3750 | 56 | 35 | 52 | 4.60 | 0.90 | 26 |
Results and discussion

Effects of nitrogen doses on yield and quality of celery were given table 1. Nitrogen doses significantly affected plant weight. The highest plant weight 334.60 g obtained from 300 kg/ha treatment. Increasing nitrogen doses also increased plant height. The highest plant height determined 38.49 cm from 300 kg/ha N dose and lowest 31.62 cm from control plant. Leaf number and petiole length are the most important factors to determine celery quality. Applying more nitrogen increased the marketable leaf number and petiole length. Marketable leaf number was changed between 4.25-8.43 per plant. The highest petiole length obtained from 300 kg N/ha treatment. Stem diameter increased due to the increase in leaf number and nitrogen application. Nitrogen application significantly influenced dry matter content. Dry matter content was changed between 11.61-12.33 %. The main reason for applying nitrogen is to increase the quality and yield. Nitrogen application was significantly influenced celery yield. Applying more nitrogen increased the yield. The highest yield 18580.7 kg/ha obtained from 300 kg N/ha nitrogen application.

Table 2. Effect of nitrogen doses on quality of celery


Doses
(kg N/ha)
Plant weight
(g/plant)
Plant height
(cm)
Marketable leaf
number (number/plant)
Petiole
length (cm)
Stalk diameter
(mm)
Dry matter
(%)
0
204.37
31.62
4.25
12.33
35.00
11.96
75
237.50
32.18
6.05
14.45
38.00
11.95
150
240.86
33.00
6.02
14.62
40.12
11.99
225
252.50
34.12
6.12
14.75
41.06
12.33
300
334.60
38.49
8.43
15.37
45.45
11.61
LSD
30.24**
4.52**
1.86**
1.14**
4.98**
0.91**

Figure 1. Effect of nitrogen doses on yield of celery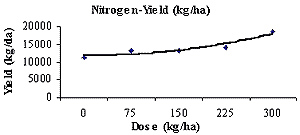 Conclusion

In the research the effect of nitrogen doses on yield and quality of celery in Turkey condition was determined. Nitrogen application was found to have beneficial effects on yield and quality. The results for plant height were similar to some previous research results. Applying nitrogen linearly increased the celery yield. The highest yield obtained from 300 kg/ha (18580.7 kg/ha) but this value is lower than previous research, because of the high weather temperature especially during the plant grown. Increasing nitrogen doses affected plant weight, stalk diameter and dry matter content.

References


Açikgöz, N., Aktaş, M. E., Moghaddam, A., Özcan, K., 1993. Tarist PC'ler için Istatistik ve Kantitatif Genetik Paket. Uluslararasi Bilgisayar Uygulamalar Semp. 133 s. 19 Ekim 1993. Konya

Anonymous 2001. Tarimsal Yapi ve Üretim. Başbakanlik Devlet Ist. Enst. Ankara

Bingham, F.T., 1949. Soil Test for Phosphate. California Agr., 3(7):11-14.

Bouyoucous, G.J., 1955. A Recalibration of the Hydrometer Method for Making Mechanical Analysis of Soils. Agronomy Journal, 4 (9):434.

Bremner, J.M., 1965. Total Nitrogen. Editor C.A. Black, Methods of Soil Analysis . Part 2. Amer. Society of Agronomy Inc, Publisher, Madison, Wisconsin U.S.A. 1149-1178.

Çaglar, K.Ö., 1949. Toprak Bilgisi. A.Ü.Z.F. Yayinlari, sayi: 10.

Günay, A.,1984. Özel Sebze yetiştiriciligi Ankara Üniversitesi Ziraat Fakültesi Cilt III, 312 s. Ankara

Jackson, M.L. 1967. Soil Chemical Analysis Prentice Hall of India Private Limited, New Delhi.

Kacar, B. 1978. Bitki ve Topragin Kimyasal Analizleri. A.Ü.Z.F. Yayinlari No : 453, Ankara.

Lindsay, W.L. and Norvell, D.W., 1978. Development of DTPA Soil Test for Zinc, Iron, Manganese and Copper. Soil Sci. Soc. of Amer. Jour. 42:421-428.

Lorenz, O. A., Maynard, D. N., 1988. Handbook for Vegetables Growers Thiral Edition 407 pp, Florida USA

Nonnecke, I. L., 1989. Vegetable Production, Book News, Inc., 644 pp., Portland, Oregon, USA.

Poincelot, R. P., 1980. Horticulture Principles and Practical Applications, Fairfield University, Department of Biology, 652 pp. New Jersey.

Pressman, E., 1979. Comparative Physiology of Wild and Cultivated Varieties of Apium Graveolens L., With Special Reference to Fflowering. PhD Thesis

Reuterberg, E. und Kremkus, F., 1951. Bestimung Von Gesamt Humus Und Alkoliloslichen Humustofhen in Boden. Zeitschrift Pflanzenernahrung Dungung Und Bodenkunde. 54 (99) Band Heft. 1., Verlag Chemie, G.M.B.H. Wienheim/Begstrasse und Berlin. 5. 240-249.

Roelofse, E.W., Hand, R.W., Hall, H.L., 1990. The Effect of Temperature and "night break" Lighting on The Development of Glasshouse Celery, Journal of Horticultural Science, 65, 297-307.

Rubatzky, V. E., Quiros , C.F., Simon, P.W., 1999. Carrots and Related Vegetable Umbelliferae, Department of Vegetable Crops, University of California, 294 pp.,USA.

Soil Survey Staff., 1951. Soil Survey Manuel. Agricultural Research Administration, U.S. Dept. Agriculture, Handbook, No.18.

Thomson, H. C., Kelly, W.C., 1957. Vegetable Crops, Fifth Edition, McGraw Hill Book Comp, Inc., 611 pp. London

Vural, H., Eşiyok, D., Duman, I., 2000. Kültür Sebzeleri (Sebze Yetiştirme). Ege Üniversitesi Basimevi. Bornova/Izmir 440s.

Wien, H. C., 1997. The Physiology of Vegetables Crops, Department of Fruit and Vegetables Science, Cornell University, USA